I was digging around in the Archives last week looking for manumission records only to find that the tomes (big heavy books) I wanted were closed because they were in such bad condition. I was very frustrated, but I am even more concerned about the loss of history that we will suffer if something is not done to preserve these precious records before they get to that stage.
Thankfully, all was not lost that day because I found a deed of indenture (a contract) dated March 10, 1830 where Henry Peter Simmons took out a small mortgage of £500 on Vaucluse  from a Mr. James Neil. The security included the fields, the manor house, the outbuildings and the slaves.  The number of slaves was given as 272 and all of their names were listed in the agreement.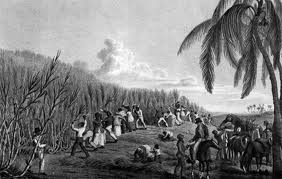 What I found very interesting was the fact that according to my research Vaucluse would have had about 280 slaves at that time so Henry Peter did not seem to include eight of his slaves. I also did not see the names of his sons, Harry and John Alleyne, listed among the slaves, although other slaves their age and younger (according to the Slave Registers) were listed so I assume they were excluded from the security. Who were the other six that were not included?
That makes me wonder why he did not include his sons as security for the mortgage.  Was it that he did not see them as slaves or was he afraid to lose them in the unlikely event that he could not repay the mortgage? I also wonder why he mortgaged the plantation as he did not seem to be short of money and it was only for one year.
The boys would have been 14 and 11 at the time so I wonder if he took them with him to England.  Many questions, so I continue my search for answers.